---
Start online or in the showroom to create a beautiful kitchen or bath

| Get Started
---
Plan Your Dream Kitchen Remodel
As the heart of the house, a proper kitchen should complement your way of living. Kiba Studios' kitchen design professionals listen to your needs and help find solutions that will restore convenience, comfort, practicality and a stylish aesthetic to your house. The importance of function, workflow, storage, organization, and energy efficiency is equal to that of creating a design statement. We're here to assist you in crafting an environment where you'll enjoy cooking, hosting, and gathering for family mealtimes. With ample selections in countertops, tile, cabinetry, and much more, your dream kitchen awaits.

Prepare for a Total Bathroom Makeover
The bathroom is a personal space that sees a lot of use and is essential for recharging. With a complete makeover, your bath can become anything from a modern walk-in facility to a private spa. Kiba Studios' professional bath designers come highly recommended. We'll help you transform your bathroom with new fixtures, flooring, sinks, faucets, vanities, shower systems, tubs, and more to create an opulent and comfortable place that encourages self-care while also supporting your desire to have a refreshing start to each day.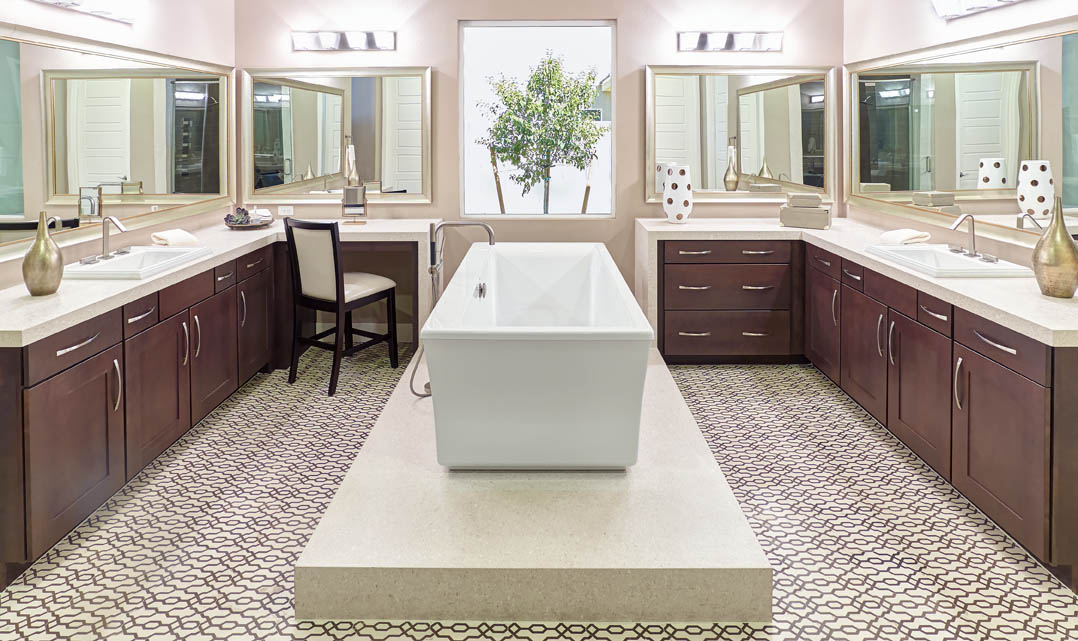 ---
Kiba Studios combines online convenience with in-person expertise
---
About Kiba Studios in Rockford, IL
Kiba Studios and Lonnie's Flooring America are two brands that are linked with excellence. Throughout northern Illinois and southern Wisconsin, local buyers entrust their custom-designed kitchens, bathrooms, and flooring to our committed team of pros. It's our personal attention to each and every project detail that sets us apart.
We take great satisfaction in assisting with the selection of high-quality cabinets, bath vanities, flooring, countertops, and more for your ideal kitchen or bath makeover. The concept becomes a reality thanks to excellent workmanship and installation. Visit our store now to see for yourself just how much local ownership makes a difference. Since 1986, Lonnie's has been the most trusted name in beautiful living.
Call us today at 833-403-0456 or visit our showroom to discover unlimited kitchen or bath designs with a Kiba Studios designer.